Print version
Independent gas supply systems

The range of services
Independent gas supply systems design, LPG equipment manufacturing and installing
Objective
Independent LPG supply of boiler-houses and engineering units
Certification
SP 62.13330.2011
ТР ТС 032/2013
ISO 9001:2015
Independent gas supply systems are widespread at providing troublefree fuel supply of camp accommodation, industrial and production facilities. Such systems are used in boiler-houses gas supply for heating administrative buildings, warehouse, industrial, agricultural and other sites. In addition, independent gas delivery is indispensable in some production facilities, f.e. glass factories, where gas supply shortage may lead to a stoppage in production.
The fuel in such systems is liquefied petroleum gas - propane-butane mixture, which can be both the main and backup fuel. Liquefied gas properties, its calorific capacitance, terms of delivery allow to supply fuel in the required capacity and of performance objectives.
Propane-butane has alike characterization data to natural gas and its main advantage is profitability. Its storage organization, transportation and supply is cheaper than the construction of cryogenic storage farms or the mainlaying.
Independent LPG supply optimally suits for large enterprises, providing efficiency in the production process. Prerequisites for LPG supply are the following:
immediate gas supply is needed;
cost optimization can be achieved due to the design flexibility;
ability to upgrade the system at any stage of work, including the stage of start-up;
LPG equipment lifetime is longer due to the downgrade of sulfides in LPG;
trouble-free and long-life use of equipment is especially relevant at facilities with nonstop operation
heat cost-efficiency.
The cost of Independent gas supply system is paid off due to the low price of both heat and electrical energy. Also, gas supply downtime and interruptions are prevented. Thereby a stop of technological processes and total facility operation come to naught.
THE INDEPENDENT GAS SUPPLY SYSTEM
The configuration and equipment type of the independent gas supply system is selected in accordance with technical enquiry, design objectives and industrial safety requirements. The standard layout consists of the following:
high- pressure gasholders: aboveground or underground, horizontal or vertical, single-walled or double-walled;
pumps and pumping units for LPG intake from the tank and feeding it into the gas pipeline;
high pressure gas pipeline to deliver fluid phase of liquefied gas from the tank to the evaporator;
low-pressure gas pipeline to feed the vapor phase of propane-butane to gas-consuming plant;
evaporator or the evaporator unit to increases the LPG evaporation rate;
condensate tank to remove the condensed moisture and condensate from the LPG vapour phase;
shut-off and safety valves for safe facility operation;
pressure regulating valve, gas metering units and other control equipment.
The exact siting of the Independent gas supply system, namely, the number of tanks, their capacity, type and capacity of pumping and evaporating units, are selected depending on the optimal compliance with the particular objective, conditions of Contract for Design-Build and Turnkey and the required boiler-house power.
THE MAIN PARAMETERS OF THE INDEPENDENT GAS SUPPLY SYSTEMS
№
Parameters
Values
1
Gasholder type
Aboveground, underground, single-walled, double-walled
2
Number of gasholders, pcs
Two and more
3
Maximum gasholder capacity, cbm.

aboveground - 5-10
underground - 5-100

4
Maximum storage capacity, cbm.

aboveground - 5-20
underground - 300

5
Evaporator type
electric, hydronic
6
Evaporator unit capacity, kg/h
50-2000 (depending on principle of action)
7
Pumping unit type
self-priming, with metering device, side-channel
8
Pumping unit capacity, l/min.
10-4500 (depending on unit type)
SINTEZ Group supplies both packaged solutions of the Independent gas supply system and performs custom project design. All equipment is manufactured by the Plants of to the Group. It guarantees full correspondence of each product with the Customer's, statutory and regulatory requirements, as well as reduces the time of facility design approval, installation and commissioning. So, tanks and gasholders are manufactured by the Saratov reservoir plant, the LPG equipment (pumps, evaporator units etc.) is produced by SINTEK enterprise. All stages of production and installation are certified according to the Quality management system ISO 9001-2015. All the fabrication processes and design and construction management are constructed with observance of Industrial Safety Regulations and Russian application standards.
OPERATING PRINCIPLE OF THE AUTONOMOUS GAS SUPPLY SYSTEM
The gasholder is filled to the level of 85% with propane-butane mixture in the liquid phase at a pressure of 1.6 MPa. Then the liquefied gas is evacuated by pumps through a high-pressure pipeline to the evaporator or evaporator unit, which increase LPG evaporating rate and provide the design specified amount of the LPG vapour phase.
Passing through the low-pressure gas to the gas consuming plant condensate formation is taken place. Condensate cumulates in a condensate collector, which may be installed separately on the gas supply system with the evaporator or be part of the evaporator unit.
The gas vapour and liquid phase flow rate is measured by the instrumentation, which transmits the metered values in real-time mode.
WORK STAGES PERFORMED
Independent gas supply system design
LPG equipment manufacturing
Equipment shipment to construction site
Equipment assembly within contractual term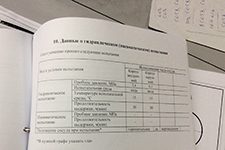 New equipment introduction
REGULATIONS GOVERNING DESIGN, MANUFACTURING, INSTALLATION AND OPERATION OF THE AUTONOMOUS GAS SUPPLY SYSTEM
Facility safe operation and equipment long life are provided due to observance of the state standards and regulations of gas supply industry. Specialists of SINTEZ Group perform all the activities, starting from technical enquiry compiling and ending with assembling on site, in accordance with the following:
SP 62.13330.2011 "Gas-distribution system. The revised edition of SNiP 42-01-2002";
Safety rules for facilities using liquefied hydrocarbon gases;
Regulations of industrial safety for hazardous facilities using equipment working under excess pressure.
Compliance with modern standards allows for uninterrupted and stable gas supply in the design capacity.
PRICING AND PERFORMANCE TIME
Carrying out cost and time calculation of the project implementation specialists of OOO Neftegazengineering take into account the following: the number of gasholders, configuration and unit capacity, the length of the gas pipeline, scope of services and other.